How To Prevent Home Water Damage in the Twin Cities
Even a minor amount of water can lead to damage, so imagine the severe damage rainstorms, flash floods, and burst water pipes can cause to homes. Extensive water damage can require costly home renovations and mold remediation.
You can protect your household, home, and finances from potential water damage with the following precautionary measures:
These methods may require some upfront investment but can save you thousands of dollars in home repairs and renovations.
Call MSP To See How You Can Protect Your Home From Water Damage
Repair Any Leaking Pipes and Exterior Damage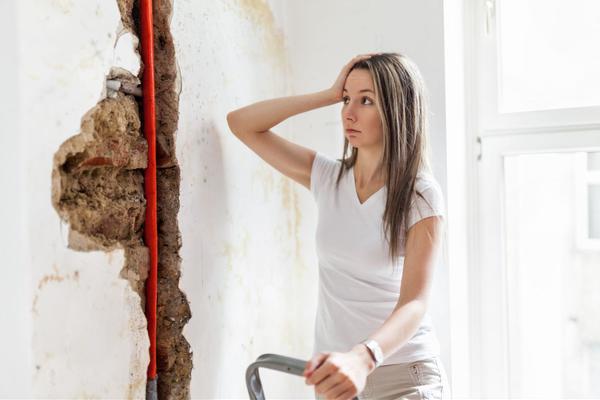 A minor leak in your water pipe, roof, or house foundation may not seem like much now but can quickly become a major problem later on. These cracks weaken your house's structure and plumbing system, allowing excess moisture to leak out and creating the perfect habitat for mold and mildew. Repairing any existing damage to your water pipes and the house's exterior prevents water damage.
Follow these tips to keep your house and plumbing in excellent condition:
Call a professional plumber to inspect your water pipes. These pipes can corrode, burst, crack, or freeze. Any pipe damage can cause water stains, higher water bills, and lingering mold odors. MSP can help you with any pipe repair request, from water line repairs to gas line repairs.
Repair any old, missing, or damaged roof shingles. Consider adding a roof underlayment, which is a waterproof barrier underneath the shingles, to protect it from leaks.
Seal any window gaps. Caulking gaps between your windows prevents water from seeping into your home when it rains.
Clean debris from your gutters so they're ready to direct water away from your home. Also, check that the downspouts are in the right direction and add gutter guards to prevent clogs.
Check that your sprinklers don't spray on your home's walls or foundation.
Maintain Your Plumbing Systems
Plumbing maintenance ensures your system is in excellent condition and ready to handle rain and floods. It can also help you avoid property damage by preventing water leaks. During a system check, a plumber can also catch any minor leaks in the water pipes and fix them before they seriously damage your home. Maintenance can help you conserve water by ensuring optimal plumbing performance and reducing water bills throughout the year.
A thorough plumbing tune-up includes the following tasks:
Drain and flush your water heater
Inspect your plumbing system (including your fixtures, shutoff valves, and bibbs) and home for signs of water damage
Perform a pressure test on water appliances and pipes to check for cracks
Clean your drains
Install a Sump Pump and Backflow Prevention System
Sump pumps are vital equipment that keeps basements from flooding by sensing rising water levels. It automatically pumps water out of your basement, preventing water damage and mold growth.
A high-quality sump pump installation includes:
A properly sized pit for most Minnesota homes should be at least 24" deep and 18" wide.
A cover to prevent water from evaporating into your home.
A backup power source in case a heavy rainstorm or flood induces power outages.
A check valve to remove water from the basin because the sump pump will strain itself without one.
If you already have a sump pump, contact a professional plumber to inspect and clean it regularly. Not only will the check-up prolong its lifespan, but it will also ensure that it works properly during a flood. You'll also want to make sure you're cleaning the sump pump's screen or inlet opening. If your sump pump is hooked up to a washing machine, clean the screen monthly or quarterly if it is not. Clean the pump and pit at least yearly.
The plumber may also recommend replacing the sump pump if it's short cycling, has visible rust, or it's more than seven years old. It may also need replacement if you've had multiple power failures in a row.
Installing a backflow prevention system, also known as a Reduced Pressure Zone Device (RPZD), can help you prevent costly floods and contamination of your drinking water. It forces water to flow in one direction so that no potable water makes contact with sewage contaminants. If you already have a backflow prevention system, have a plumber test it regularly.
Install a Smart Water Alarm
Smart water alarms can reduce flood damage with real-time alerts whenever your home is at risk of flooding. It'll sound an audible alarm and immediately notify you via text, email, or smartphone app during a water leak, burst pipe, or flood. You can then take the actions needed to address the flooding and prevent damage to your home.
You can install these alarms wherever leaks or floods are likely to happen. Basements, laundry rooms, bathrooms, and kitchens are common flashpoints for water damage. Some homeowners insurance companies will even offer discounts if you install an alarm.
Depending on the brand of alarm you install, it may have these features:
It connects to your main water shutoff valve and will automatically shut it off for you
It has multiple sensors and will pinpoint the exact location of the leak for you
It comes with a self-charging backup battery for 24/7 water protection
It integrates with other smart home products (like Nest, Google Assistant, and Amazon Alexa) and sump pumps
An extended warranty if a professional plumber installs the alarm
---
Protect Your Home From Water Damage Today With MSP!