Should I Repair or Replace My Central AC in Minneapolis?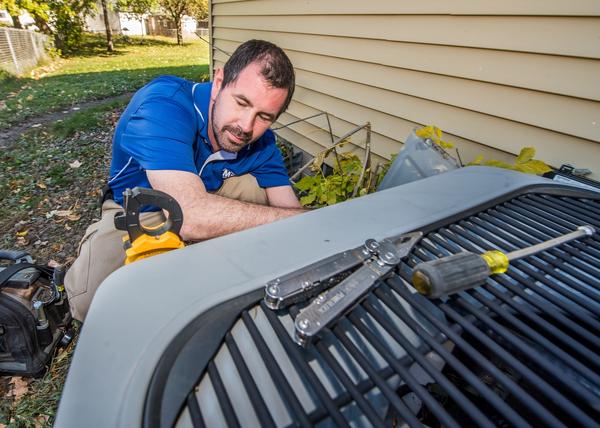 As every Minneapolis homeowner knows, the summers can get quite warm. In July, temperatures can quickly rise to over 80ºF, so it's important to have a quality air conditioner to help keep you cool.
In an ideal world, your AC would deliver a steady flow of cool air whenever you need it. Unfortunately, like many appliances, air conditioners are vulnerable to all sorts of problems. Anything from old age to a broken part can lead to breakdowns or a malfunctioning system.
If you've noticed recent issues with your AC unit, you might be wondering whether to sink more money into repairs or if it's cost effective to just replace your system. To answer this question, let's explore scenarios for:
That way, if you're asking, "Should I repair or replace my AC in Minneapolis?" you can make the best decision possible for your needs and budget.
Rather speak with trusted cooling experts?
When to Repair Your AC
Sometimes, a repair is all your AC needs to be restored to prime condition. Here are a few situations where it's better to repair your unit (instead of replacing it).
You Have Minor Problems Only
Minor AC problems can usually be fixed quickly and for a relatively low cost. Here are a few examples of minor problems:
Clogged air filters causing odors and poor air flow issues
Faulty thermostat or incorrect settings
Power issues due to tripped breakers
Clogged condensate drain line
Of course, you need to identify the problem before you can determine if the repair needs are minor. The best way to do this is by contacting an HVAC professional, such as MSP. We have years of experience resolving common AC problems and can deliver same-day repairs on all makes and models.
Your Warranty Covers the Repair Cost
Another situation where it's better to go with a repair over a replacement is when your warranty covers the repair cost. HVAC manufacturers provide warranties for each individual part of your AC. Depending on the part, the warranty may last anywhere from 5 to over 10 years.
The manufacturer will cover the cost if a part of your AC stops working before the warranty expires. However, keep in mind you may still need to pay for labor. Check with the original installer to see how long the labor warranty period is.
When to Replace Your AC
While some situations call for a repair, others require a replacement. Here are some cases in which purchasing an entirely new air conditioner is better.
Your AC Is 15+ Years Old
A high-quality air conditioner generally lasts between 15 and 20 years (when well maintained). If your AC is over 15 years old, or if you've neglected maintenance for most of its lifespan, it probably needs replacing.
You see, as AC systems age, there's a higher chance that major parts, such as the compressor, will fail. Once these major parts cost more than 50% of a brand new system, it's typically no longer cost-effective to sink money into repairing an AC that may only last you a few more years. Especially if your warranties have expired and you're paying out of pocket for everything.
Your AC Needs Constant Repairs
It's not unusual for air conditioners to break down and need repairing every now and then. However, if your AC constantly needs repairs, you may just want to get a new one. Over time, these constant problems can seriously damage your unit. Not to mention, the repair costs can quickly build up.
Your Energy Bills Are Very High
ACs that need constant repairs also tend to come with higher energy bills. If you've noticed a significant decline in energy efficiency and your AC is on the older side, it may be more cost effective to replace your system altogether. While a new installation has higher upfront costs, an energy-efficient system can reduce your monthly bills and end up saving you money long-term.
Your Warranties Have Expired
If your AC unit's warranties are still valid, you don't have to worry about the cost of repairs. On the other hand, if they've expired, repairing the unit may simply not be worth it. In this situation, you should compare the cost of repairs to the cost of a new AC installation. As mentioned above, if the repair costs are over half the cost of a replacement, you're better off getting a new unit.
Your AC Struggles to Cool Your Home
Nothing is more frustrating than an air conditioner that does not cool your home. Maybe it's producing warm air instead of cool air, it's short-cycling, or there's hot and cold spots throughout your home. In any case, you're left with uncomfortable indoor temperatures, not to mention poor air quality.
If your AC is struggling to cool your home, contact an HVAC professional to get to the root of the issue. In an ideal scenario, the cause will be something minor (such as a clogged air filter). However, a lack of cool air can also be caused by major issues like improper installation or incorrectly sized AC.
In these cases, it might be better to replace the unit entirely. We recommend speaking with a trusted HVAC professional who can review your unique home and circumstances, and then guide you to make the best choice possible.
Still need help? Contact MSP for trustworthy AC repairs and installations!