How Water Heater Maintenance Can Save You Money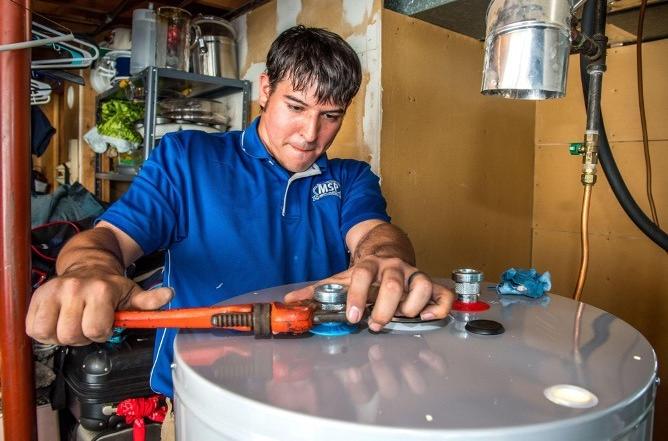 Your water heater will likely last for quite some time, as long as you take care of it and keep up with routine maintenance. By taking the correct measures to ensure that your water heater is being properly maintained, you can save yourself from repairs and avoid being without hot water when you need it most. Keep reading to find out just how routine maintenance can save you big time!
Decreased Likelihood of an Early Replacement
When you actively keep up with maintenance on your water heater, you can decrease the likelihood of having to replace your system earlier than planned. This is accomplished by identifying potential issues & needed repairs before they turn into a larger problem that could result in the need of system replacement. Here in Minnesota, the average cost of a water replacement is between $800-$1,600. That means by keeping up with your annual maintenance you could be saving up to $1,600!
Staying Within Your Warranty
Many manufacturer's system warranties require proof of regular maintenance for your water heater. Some people may try to skip their annual maintenance check-up in order to save a few dollars, but if the heater were to stop working, you may find yourself paying out of pocket to replace it due to a voided warranty. Having a licensed plumber perform annual maintenance on your water heater will save you a great deal of money down the road.
Improved Energy Efficiency
Calcium build-up is very common in water heaters and can be a major contributor to decreasing your system's efficiency. The build-up of loose minerals settles to the bottom of your water heater making it difficult for the water heater to produce hot water. With proper maintenance, calcium build-up can be avoided or resolved, allowing your water heater to function more efficiently. This can lead to a drastic decrease in the water heating duration, allowing you to save on your utilities.
Something More Than Money … Your Safety
A water heater can pose many dangers to your home & your family when not taken care of properly. Failing water heaters may explode, resulting in fires, bodily harm, and structural damage, all of them being costly. By keeping up with annual maintenance you will stay ahead of the situation and avoid explosions or fires caused by the water heater & have peace of mind that your home & family are safe.
Have you decided it's time to take care of your water heater maintenance! We are here to help. Our team of experts are COMMITTED to making sure your water heater is in tip-top shape and ready to supply you with HOT water all year long. Give us a call today at (651) 228-9200.