Cost to Repair an AC in Minneapolis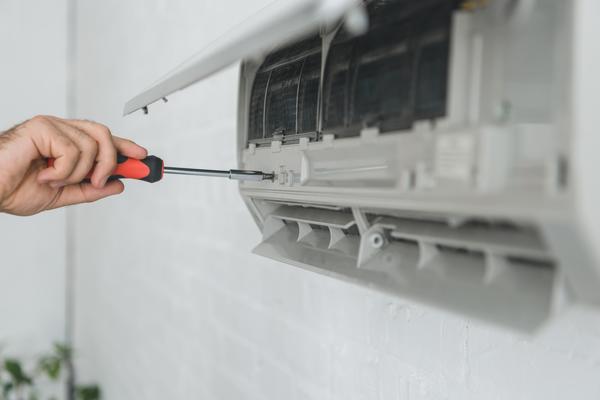 Are you battling a broken air conditioner? From a lack of cool air to strange noises or water leaks, many possible problems can affect your AC. If you want to restore your unit to perfect condition, you must schedule a repair.
The AC repair cost in Minneapolis, MN, can range anywhere from a low of $100 to over $1,000. To narrow down the price, consider the following factors:
Keep reading to learn more about these different factors and to get a better idea of how much your AC repair cost in Minnesota will be.
Do you need an air conditioner repair?
Our MSP Plumbing Heating Air team can deliver same-day repairs on all AC makes and models. Our prompt service, honest pricing, and 100% satisfaction guarantees help set us apart from the crowd. For a diagnostic visit, call us at (651) 228-9200 today.
The Severity of Repairs Needed
The type of repair you need is a significant factor that impacts your repair costs. The more severe the repair is, the higher the ultimate costs. For example, replacing a broken evaporator coil or fan will cost more than swapping out the air filters.
You can help prevent repairs from becoming more severe by catching problems early. Keep an eye out for these signs of AC problems:
Lack of airflow or cool air
Dirt or debris in the air
Strange noises (such as buzzing or banging)
Strange odors (such as burning or mildew smells)
Water leaking around the unit
If you suspect something is wrong, you should contact an HVAC professional as soon as possible.
The Status of Your Warranties
Another factor that plays a role in total costs is your warranties. Two main types of warranties come with your AC: a manufacturer's warranty and a labor warranty. The manufacturer's warranty provides coverage for different parts of your AC. In other words, if a certain part is broken, the manufacturer will pay for it (provided the warranty is still valid). Most of these warranties last anywhere from five to 10 years.
The labor warranty, meanwhile, provides coverage for the cost of labor. This warranty is usually only valid for one to two years. If you're unsure about your warranty status, ask the company that installed your unit. Remember that most manufacturers require annual maintenance to keep a warranty valid.
Whether You Need a Replacement
Before you go ahead and schedule an AC repair, make sure you're not better off with a replacement. In some cases, getting a new air conditioner can actually save you money in the long run. Here are some situations in which it's generally better to get a replacement:
Your air conditioner is old
The cost of repairs is high
Your warranties have expired
With regular maintenance, the average AC lasts about 15 to 20 years. If your AC is in this age range, you should consider buying a new unit instead. Although an installation has higher upfront costs than a repair, having an efficient, high-quality AC will help you save on energy costs and future repairs.
Another reason you might want to go with a replacement is if the cost of repairs is high. As a general rule of thumb, the repair costs should not exceed half the cost of a new unit. Similarly, if your warranties have expired and you must pay out of pocket, it might be better to just get a new AC.
The HVAC Company You Hire
Regarding that final bill, the HVAC company you hire is a major influencer. Some companies charge excessive amounts for minor repairs, while others charge low amounts and deliver poor, shoddy work. Ideally, you want a company that provides quality work for a fair price, such as MSP Plumbing Heating Air.
For over 100 years, we've impressed local homeowners with our speedy, first-rate AC repair services. In addition to delivering same-day services, we have experience with all makes and models. Our commitment to quality work, honest pricing, and friendly service has earned us thousands of 5-star reviews. Whether you need a quick AC repair, a full replacement, or a maintenance check, we'll get the job done quickly and correctly.
How Maintenance Can Help You Avoid Major Repairs
Are you getting regular AC maintenance? If not, it's time to start. Not only does maintenance help keep your air conditioner in good working condition, but it can also keep your warranties valid and reduce the need for repairs. For cost-effective service, joining a maintenance plan is a good idea. For example, our Total Comfort Club helps members save money by offering the following perks:
Reduced breakdowns: We offer two annual tune-ups, which can reduce the risk of breakdowns by up to 95%.
Lower energy bills: Besides lowering repair needs, our tune-ups can decrease your energy bills by up to 30%.
Priority service: Total Comfort Club members receive priority service over regular members.
Discounts: Members enjoy 10% discounts on repairs and services and reduced emergency fees.
Free service calls: We waive diagnostic costs for members.
All these benefits are available for just $8.25 per month.
Looking for AC Repair Experts? We're Here to Help
Since 1918, MSP Plumbing Heating Air has impressed homeowners with 5-star repairs and service. From convenient scheduling and honest pricing to high-quality work and outstanding customer service, we do everything possible to meet your needs. Call us today at (651) 228-9200 to schedule a diagnostic visit.