What's Included In A Water Heater Tune‑Up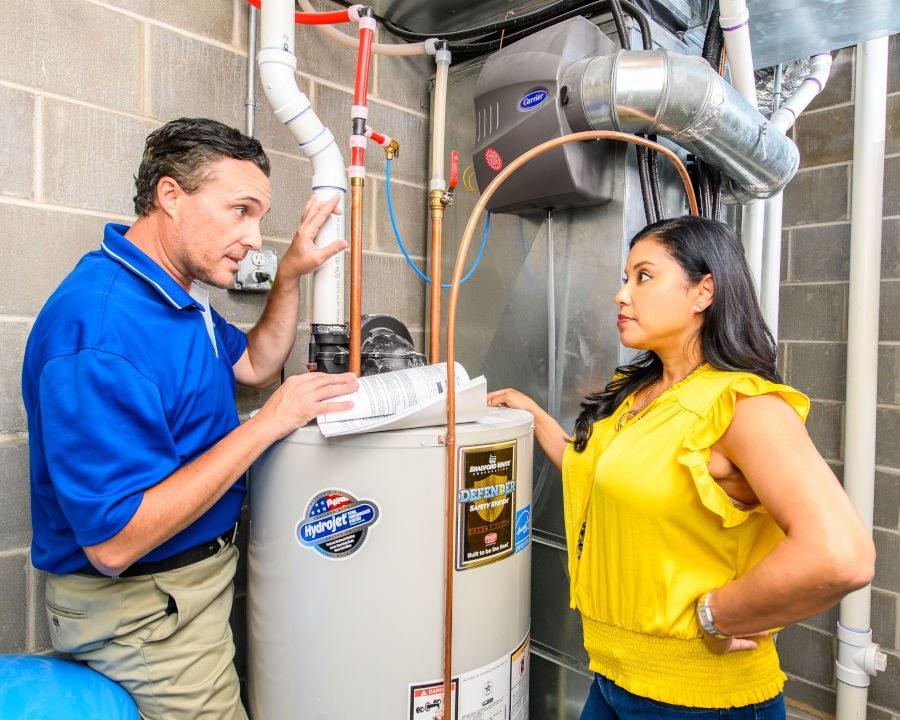 One of the most common questions we get when it comes to water heater maintenance is "what does it include?" While the specifics may vary, our MSP team of water heater experts is here to walk you through everything we will perform while at your home to ensure your water heater & plumbing are running right. Keep reading to learn more!
Check Water Pressure
We will check the overall water pressure in your home! Some signs you may have low water pressure, other than the obvious, are clothes not being fully washed after a cycle and your dishwater not cleaning your dishes.
Test Drinking Water
Our team is committed to making sure your family is drinking high-quality, clean water! During your water heater tune-up, our plumbing professional will test the quality of your water to ensure there are no contaminants lurking in your supply. This could be caused by sediment build-up in your water heater.
Check All Faucets For Leaks
Leaks can go undetected for a long period of time if not looked for. That's why our team will check your home's faucets for any potential leaks and resolve them on the spot if needed.
Inspect Water Heater Components
While this step may be obvious, our plumber will inspect all of your water heater components to ensure your water heater isn't experiencing any issues and is performing as efficiently as possible. There are many components to your water heater but to name a few there is your dip tube, discharge pipe, pressure relief valve, and exhaust flue.
Drain & Flush Water Heater
During your water heater tune-up, one of our professionals will perform a water heater flush. The point behind draining the water is to flush out all the sediment that accumulates at the bottom of the tank, which could be causing your system to overwork, increasing your utility bill and decreasing your system lifespan.
Check Garbage Disposal
We will also check your garbage disposal to ensure you are not experiencing any clogs. If your garbage is draining slowly, there is likely a blockage or clogging in the drain pipe.
Check Emergency Shut Off Valves
One of the most important components we will check on your water heater, to ensure is it operating properly, is the emergency shut-off valve. The shutoff valve is a device that controls the flow of hot water into your home. This can help prevent flooding within your home due to burst pipes or other accidents caused by children or pets!
Check Main Water Meter
Our team will check your main water meter to ensure nothing unusual is occurring. Reading your water meter can help detect water leaks, save water, and lower your water bill.
Check Washing Machine Hoses
Next on the to do list is to check your washing machine hoses! Why? Our team will be looking for any signs of wear like cracks, blisters, or bulges. We will also check to ensure your hose was properly installed and securely connected. A leak from your washing machine hose could cause catastrophic damage to your home & your wallet!
Test All Toilets
We will also check all the toilets throughout your home to ensure you are not experiencing any leaks or clogs, and that they are all running and flushing properly.
Check Outdoor Spigots (Weather Permitting)
Lastly, our team of plumbing experts will head outside to check your outdoor spigots. We will be looking for any possible leaks and the overall water pressure. Outdoor faucets are prone to leaking, especially if they have frozen over the winter.
Our MSP team is committed to making sure your plumbing is running right during your water heater tune-up appointment! We hope that by walking you through the detailed steps that our team will perform during your maintenance appointment, you now have a better understanding of what to expect and the level of attention our experts will be paying to your home's plumbing.