How To Prepare Your HVAC System For Winter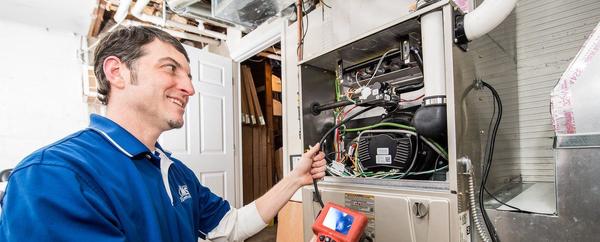 As temperatures drop this winter, ensure your heating equipment stays reliable. Even small preparations can help your home stay cozy when those cold snaps happen.
By far, the best way to prepare your HVAC system for a Minnesota winter is with a professional tune-up. You're Minnesota Tough—and your heating system can be too. HVAC maintenance keeps your heating bills low, reduces surprise breakdowns, validates your equipment warranty, and can extend the lifespan of an HVAC system.
That said, there are other ways you can prepare your HVAC system to operate safely and efficiently during the winter:
In this blog, we'll explore the above tips and the benefits of scheduling a heating tune-up. With proper preparation, your heating system will stay ready and reliable this winter and for many years to come.
Want Energy-Efficient and Reliable Heat This Winter?
Contact MSP Plumbing Heating Air! We've been committed to the comfort of Twin Cities homeowners for over 100 years. Our experience and expertise are backed by over a thousand 5-star reviews from your neighbors.
During your boiler, heat pump, or furnace tune-up, our technicians will perform a comprehensive inspection to ensure your system continues to perform at its best. We'll provide upfront pricing, and we can complete most tune-ups within 1-2 hours.
Call us today at (651) 228-9200 for same-day service that will keep your heating system running smoothly.
Keep Airflow Moving
Airflow moving properly in your HVAC system is critical for delivering consistent heat throughout your home. By changing out the filter, you can ensure that your heat pump or furnace system gets enough airflow. You want your air vents to be unobstructed and clean for any heating system.
Air Filter Replacement
Dirty or clogged air filters mean your furnace or heat pump has to work overtime to provide the same level of warmth. Replacing a visibly dirty air filter is one of the most important but easily forgotten home maintenance tasks. A clean air filter improves system efficiency and helps to improve indoor air quality, which is especially important during winter months when people keep their windows shut.
According to Energy Star, homeowners should change their air filters at least every three months. Many smart thermostats can be set to remind you when it's time to replace your filter.
Clean and Open Air Vents
To keep your system working efficiently, clean the air vents and make sure they are unobstructed by furniture, drapes, or other objects that restrict airflow. A dirty or blocked air vent will cause your HVAC system to work harder to compensate for the lack of airflow, leading to potential breakdowns and a shorter lifespan for your equipment.
Dust, dirt, and hair can accumulate on air vents over time. Keep your system working efficiently by cleaning your air vents periodically. To clean your central heat and air vents:
Use a screwdriver to remove the covers.
Clean the covers by soaking them in warm soapy water for 10 minutes.
Use the hose attachment on your vacuum cleaner to get rid of as much dust and dirt as possible near the vents.
Wipe down the vents with a microfiber cloth to clean up any lingering dust or pollen.
Scrub the covers with a sponge.
Dry the covers and screw them back in.
Adjust Thermostat Settings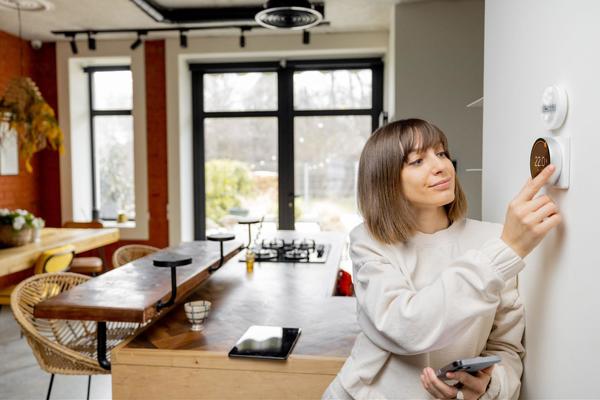 Your thermostat settings play a major role in keeping your home cozy and comfortable. Upgrading to an energy-efficient programmable thermostat can help you avoid high energy bills. To stay comfortable this winter, check that your thermostat is set to HEAT instead of COOL, which will kick on your heating system whenever the temperature drops.
With a smart or programmable thermostat, you can set the temperature back by 7°-10°F for 8 hours a day, saving you as much as 10% on your heating bills. A smart thermostat's geofencing and learning capabilities allow you to return to an already warm home without wasting money heating an empty home or forgetting to change the temperature when you leave.
Contrary to popular belief, turning off your thermostat whenever you're out of the house will not help you save money. It's best to keep the gap between the indoor and outdoor temperatures as small as possible. When you turn off the thermostat, your home's temperature will match the outdoor temperature. Then when you turn it back on, your heating system has to overwork itself to reach your desired temperature. The more strain you place on your HVAC system, the faster its internal parts will wear out, leaving you with unexpected repair bills. In addition, shutting off your furnace can increase the likelihood that your water pipes will freeze as temperatures drop.
If your heating system doesn't start up when you change the thermostat settings, or it isn't warming your home as well as it used to, a frayed thermostat wire could be the cause. Damaged electrical wiring can pose an electrical or fire danger to you and your home. Contact an HVAC technician to inspect your thermostat.
Check for Leaks, Error Codes, and Noises
As you prepare your HVAC system for winter, you'll want to inspect it for leaks, error codes, or strange noises.
Leaks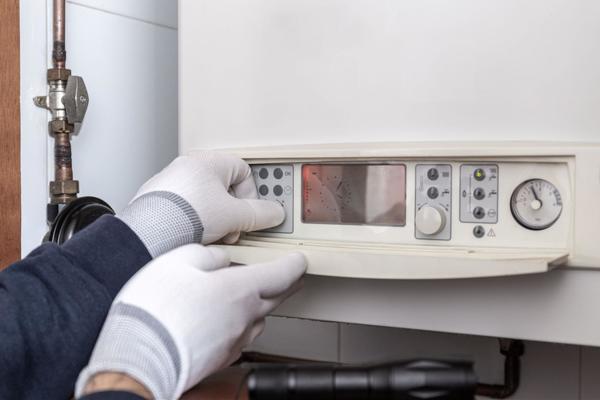 Different types of heating systems have varying types of leaks, for example:
A boiler can often develop a water leak. With a boiler leak, you will most commonly notice water pooling near the unit or damp spots around the radiators. These leaks develop when a boiler's pressure drops significantly.
A furnace can develop a leaky fuel line. Fuel line leaks release toxic chemicals in your air.
A heat pump can develop a refrigerant leak. Refrigerant leaks are odorless and often go unnoticed by homeowners until the heat pump begins blowing cold air.
If you suspect your heating system has a leak, contact a licensed HVAC technician immediately for diagnostic testing and repair.
Error Codes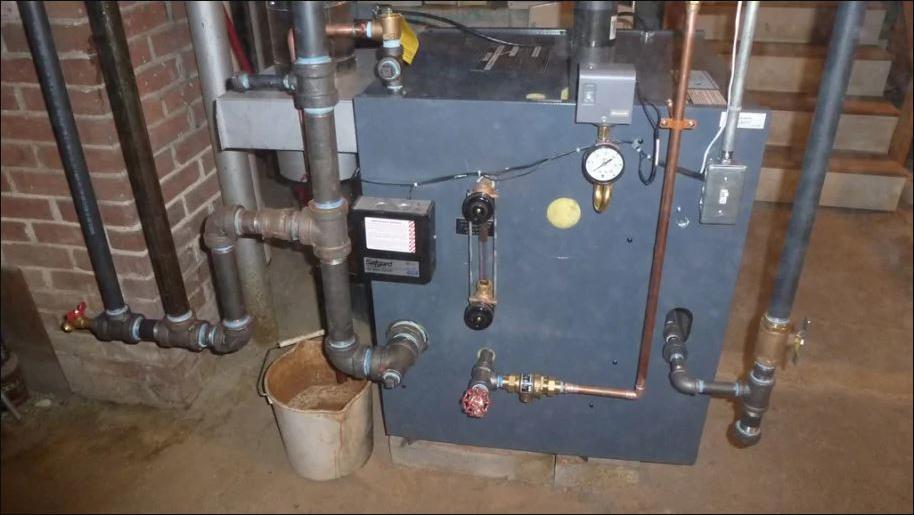 Some newer models of furnaces, boilers, and heat pumps have display screens that indicate temperature and pressure levels. They will show error (fault) codes when an issue occurs:
A furnace display screen will let you know that its pilot light has gone out and needs relighting.
Heat pump error codes generally show miscommunication between the indoor and outdoor units. They can also identify if the compressor's pressure levels are too high or low, the system is overheating, or the safety switch has flipped on.
Boiler error codes often tell you if the system has a blocked condensate pipe, low water pressure, or a faulty sensor.
Unusual Noises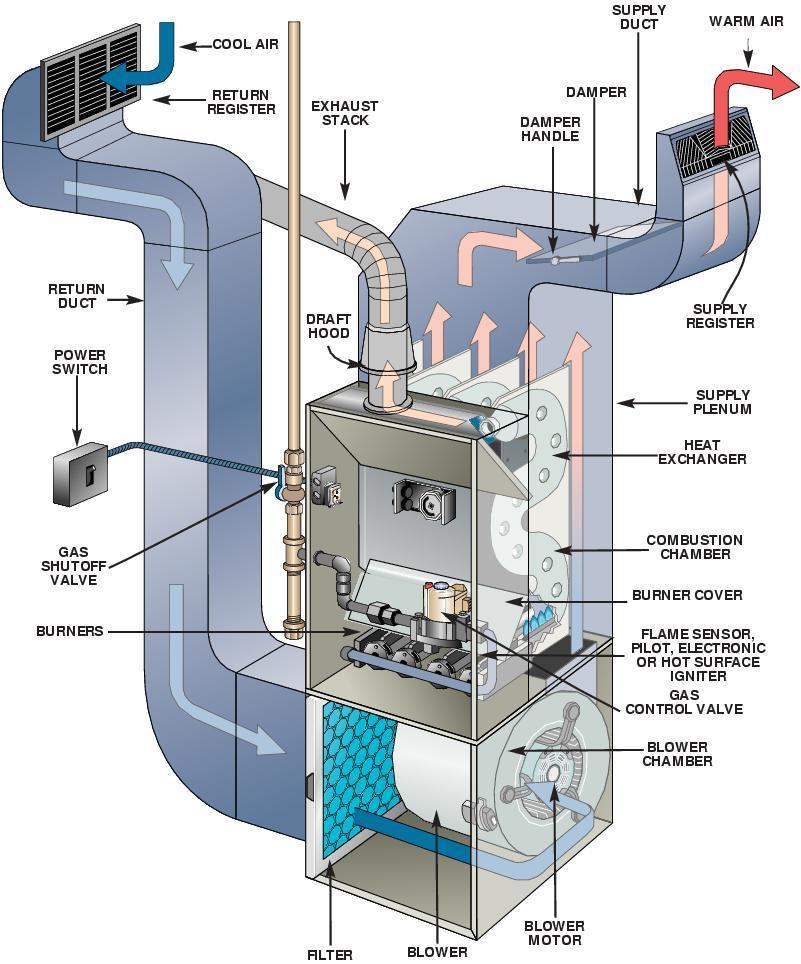 Strange sounds are a tell-tale sign of issues, regardless of the type of heating system you have. While banging, clanging, and other noises are typical when you start your heating system up for the first time in the season, they should stop after a short period. If they continue, schedule an appointment with an expert technician to diagnose your equipment and make any necessary repairs before problems worsen.
Specific noises can indicate bigger problems with your heating system, such as:
Whining or grinding sounds from your furnace can indicate a damaged motor.
Buzzing or vibrating noises from a heat pump can also indicate a failing motor.
Whistling from a boiler indicates that it has too much limescale buildup trapped in its heat exchanger or there's sludge collecting around the part, causing the system to overheat.
Larger problems often cause these strange sounds, indicating that your heating system's performance is suffering. These problems, if ignored, will typically result in higher utility bills and decreased equipment lifespan. Contact an HVAC technician immediately to resolve the issue.
Check Your Carbon Monoxide Detector
It's vital to install a carbon monoxide detector in your home if you have a gas-fueled heating system, as they are a common source of carbon monoxide (CO). During combustion, the gas furnace or boiler heat exchanger will emit byproducts. CO is one of the byproducts; it's an odorless gas that is hazardous and can be fatal when inhaled.
By Minnesota state law, every house should have a minimum of one approved and fully operational CO detector installed near bedrooms. You can also install a CO detector near your gas-fueled heating system.
When installing an additional CO detector, make sure it's a hardwired detector that permanently wires into a nearby Arc Fault Circuit Interrupter (AFCI) protected circuit. AFCI circuits will shut off power to prevent electrical fires if any electrical currents start diverting from their intended paths.
Also, check that the CO detector is certified. Minnesota law requires that all CO detectors conform to the safety standards of Underwriters Laboratories, a global certification body.
If your current CO detectors aren't hardwired, you can have them replaced. Hardwired CO detectors are interconnected and will trigger every alarm in the house to go off simultaneously. Plus, you won't have to worry about replacing the batteries in hardwired detectors. Many newer CO detectors have upgraded features like smartphone alerts and CO level measurements.
Schedule a Heating Tune-Up
Hands down, the best way to prepare your HVAC system for winter is to schedule a tune-up. During a tune-up, trained technicians will inspect your equipment and spot minor issues before they cause major breakdowns. Annual maintenance also helps you keep your parts warranty valid, which can help you save on future repairs or replacements.
Our heating tune-ups at MSP Plumbing Heating Air can provide you with better system performance and reliable heat to keep you comfortable through the long Minnesota winter. Keep your maintenance up-to-date by joining our Total Comfort Club. Maintenance plan members receive semi-annual tune-ups, discounts, and priority service to keep their HVAC system functioning at peak performance, regardless of the season.
---
Need Heating Maintenance This Winter? Trust MSP Plumbing Heating Air To Keep You Comfortable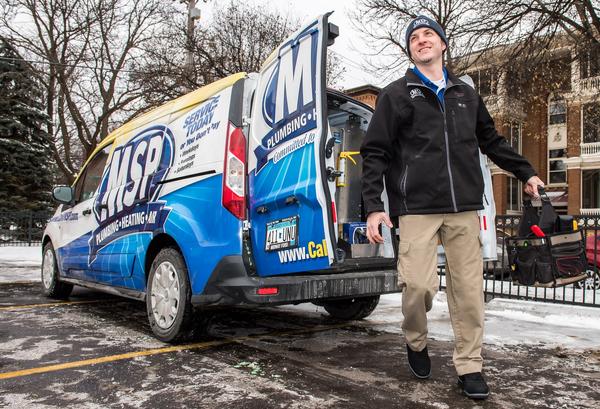 Minneapolis-St. Paul homeowners have relied on MSP Plumbing Heating Air for over 100 years to provide them with 5-star service and to keep their heating systems performing comfortably for years to come.
Need a furnace, boiler, or heat pump tune-up? Our skilled heating technicians have the training and tools needed to service all heating system brands and models. We back up our work with a 100% satisfaction guarantee.
Call us at (651) 228-9200 to schedule same-day service today!