How to Clean Your Ductless Mini Split AC: A Minneapolis‑St. Paul Tech Answers
Notice dust and debris gathering on your ductless mini-split? If so, you're probably wondering how to safely clean your AC unit.
Below, we'll give you a few tips on how to clean both your indoor and outdoor mini-split units as well as let you in on our #1 tip to ensure your ductless AC is cleaned properly.
Rather have a professional handle the cleaning? We can help!
Tips for cleaning your indoor unit
Step 1: Start by turning the power off to your AC unit. You don't want to accidentally injure yourself or damage your AC system while you're cleaning it.
Step 2: Once the power to your AC system has been shut off, lift up the front panel of your ductless mini-split. You should see two air filters.
Caption: Lift the front panel of your indoor unit to see and remove the air filters.
Carefully remove these air filters and clean them with warm water only (no soap or cleaning chemicals needed).
You can use a hose or your kitchen sink for this but make sure to use a gentle, low water flow setting. DO NOT use soaps or harsh cleaning chemicals as this could damage the filters.
Caption: This is what your ductless filters should look like as you remove them.
Step 3: Allow the filters to fully dry. This is an important step—do not put the filters back into the unit if they are wet or damp. Once fully dry, place filters back into your AC unit and secure the front panel.
Step 4: If you have multiple indoor units, repeat steps 1-3 for each indoor unit.
Tips for cleaning your outdoor unit
Step 1: Remove any shrubbery or debris from around your outdoor unit.
Ideally, you want to give your outdoor unit about a 2-foot radius of "breathing" space. Having enough space to properly blow out hot air helps the AC system operate efficiently (i.e. saves you money on energy bills). Clearing debris from around the unit also prevents dirt, leaves or small sticks from getting into and damaging internal components of the outside unit.
Caption: Example of vegetation that has been cleared 2-feet away from the outdoor mini-split unit.
Step 2: Once you have cleared away shrubbery and debris from around the unit, remove any noticeable debris stuck to or sitting on top of the unit itself. You will also want to wipe down the outside of the unit with a damp cloth.
Step 3: After the unit has been wiped down, use a shop vac and/or dry cloth to clean the fan grill and attempt to remove any debris caught in the fan or grill.
Caption: A close up of what the fan grill looks like on an outdoor ductless mini-split unit.
Step 4: Attach the shop vac to the opening of the condensation drain and turn it on for 1-2 minutes. This should help clean out any material that is clogging the condensate drain and could prevent future clogs.
Your ductless AC's condensate drain is a white PVC pipe that juts out from the exterior wall of your home and is typically found next to the outside unit (see image below). You may need to hold your hand over the connection of the shop vac and the condensate drain to create an airtight seal.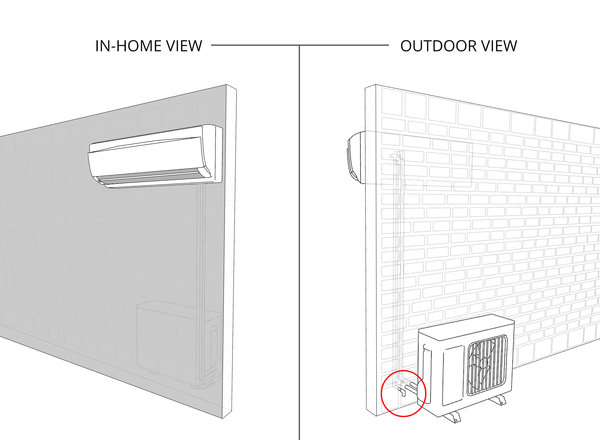 Caption: If you aren't sure where to look for the condensate drain, it should be a small (usually white PVC) pipe near your outdoor unit.
The best way to ensure your ductless AC is cleaned properly: Professional maintenance
It's good to follow the tips above and clean your ductless AC system every few months. However, DIY ductless cleaning by itself is not enough and won't ensure the inner, more fragile components are cleaned and operating efficiently.
To ensure your ductless AC system is thoroughly cleaned and running at optimal performance, you should have a professional perform maintenance at least once a year. During a maintenance visit, a professional will be able to safely take apart the protective covering of the ductless system to access, clean and inspect all the internal components.
For example, the refrigerant coils of a ductless mini-split are very thin and therefore fragile. They can easily become damaged during a DIY cleaning, which could turn into an expensive replacement for you.
When you hire a professional, you don't risk damage to your AC system by trying to remove and clean certain parts yourself. Plus, the cleaner your AC parts are, the more efficiently your AC system will run, which usually means your cooling bills will decrease.
Want assurance that your AC is being cleaned properly? Give MSP a call
We've been serving the Twin Cities area since 1918, so you could say we know a thing or two about cleaning ductless AC systems. No matter what make, model, or brand of ductless mini-split you have, we can properly clean it, leaving it to run safely and efficiently all year long.