What Furnace Size Do I Need in Minneapolis?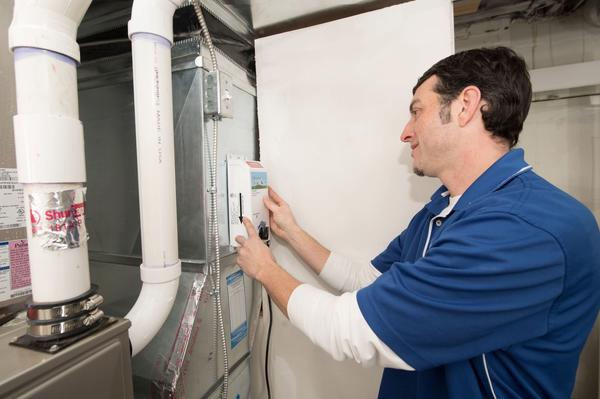 Is it time for a new furnace? Whether replacing an old unit or installing one for the first time, it's important to choose carefully. If your furnace is too large, you'll consume more energy than necessary. If it's too small, your comfort needs won't be fulfilled.
In this blog, we'll answer the question "What furnace size do I need?" and cover everything you need to know about furnaces in Minneapolis, including:
Keep reading to learn more. By the end, you'll be empowered to make the right furnace selection for your home's needs and budget.
Get trustworthy furnace recommendations from MSP Plumbing Heating Air.
At MSP Plumbing Heating Air, we have over 100 years of experience in heating installations, repairs, and maintenance. If you're looking for expert advice about the right furnace for your Twin Cities home, schedule a free in-home estimate with us today. We'll review your home's size, layout, and heating preferences. Then, we'll share the best options for your needs and budget, including help with financing if needed. Call us at (651) 228-9200 or click below to schedule a free in-home estimate today.
Home Size and Heating Load
The first factor to consider when determining the right furnace size is your home's size. It's important to note that furnace size refers to the amount of BTUs (British Thermal Units). BTUs are used to measure appliances' (such as furnaces) heating or cooling capacity. Generally, you want around 20 BTU for every square foot of your home. So, if you have 1,000 square feet, the furnace should be at least 20,000 BTU.
Of course, this is just a general approximation. For a more precise calculation, you must consider the home's heating load or the amount of heat energy needed to maintain a comfortable temperature. To determine this, many HVAC technicians use the Manual J calculation method. This calculation takes into account the following factors:
Your home's insulation
Number of entry points (i.e., windows and doors)
Your area's climate
Your building's orientation (i.e., exposure to the sun)
Air infiltration risks (i.e., cracks and gaps)
Number of occupants
Avoiding an Oversized Furnace
By making precise calculations, you can lower the risk of getting a furnace that's too large for your home. Oversized furnaces are linked to the following issues:
Short-cycling
Uneven heating
Long-term damage
Poor air quality
High energy costs
When a furnace is too big, it tends to reach the desired temperature faster than usual. Once it reaches this temperature, it turns off. Then, it turns on again as needed.
This process of frequently cycling on and off, known as short cycling, can cause uneven heating and even damage the furnace. Not to mention, short cycling prevents the furnace from properly filtering air, leading to increased contaminants. Over time, this constant cycling process boosts your energy costs.
Problems with an Undersized Furnace
While you want to avoid oversized furnaces, you also don't want to end up with an undersized one. A furnace that's too small will result in the following problems:
Poor heating
Furnace damage
Lower energy-efficiency
If a furnace isn't large enough, it won't be able to fulfill your heating needs. To try and reach your desired temperature, the furnace will overwork itself, resulting in long-term damage. This extra work also reduces energy efficiency, leading to higher energy bills.
At MSP Plumbing Heating Air, our technicians are highly experienced in calculating furnace size. After considering all your unique needs, we can make an expert recommendation. Contact us today for a free in-home estimate.
Efficiency Ratings
Having the right-sized furnace helps ensure you don't waste energy, but its efficiency rating will also play a role.
Furnaces are rated by the "Average Fuel Utilization Efficiency" or AFUE rating. Labeled as a percentage, the rating represents how much fuel the furnace converts into heat. For example, if your furnace has a 95% AFUE rating then 95% of its fuel is turned to heat, while the remaining 5% gets lost during the combustion process. The higher the rating is, the more energy-efficient the device will be.
By correctly sizing a furnace based on the heating requirements of a space and then selecting a furnace with a high AFUE rating, Minnesota homeowners can ensure optimal efficiency and comfort while minimizing energy waste and operating costs.
Ductwork Considerations
Before buying a new furnace, you must ensure it's compatible with your current ductwork. To do this, consider the ductwork's size, condition, and insulation levels. Ask questions like:
Is your ductwork large enough to accommodate the furnace?
Is it in good condition, or does it have leaks and cracks?
Is it insulated to minimize heat loss?
These are just a few of the questions you'll need to ask. For the best results, it's advisable to have HVAC professionals examine your ductwork first. After performing an evaluation, they'll determine whether you need to make any modifications.
Comfort Features
In addition to considering the furnace's size, think about its features. Many furnaces have extra features designed to improve everything from comfort to energy efficiency. Here are a few popular features:
Variable speed blower: This feature lets the furnace operate at multiple speeds (as opposed to a single one). You can reduce your energy consumption by adjusting the furnace speed to match your exact heating needs.
Modulating burner: Many furnaces use a two-stage burner, which offers high and low heating output levels. Modulating burners, on the other hand, offer a wide range of heating output options. Thus, you can choose heating levels that meet your precise comfort needs.
Air filtration: Some furnaces have air filtration systems that catch unwanted pollutants, including dirt, dust, and allergens. This leaves you with cleaner, healthier air.
When it comes to size, these features can enhance the performance and efficiency of a furnace, allowing for better control over temperature regulation and airflow. The ability of a furnace to modulate heat output and control airflow more precisely can help compensate for potential sizing issues and ensure optimal comfort and energy efficiency. As a result, an HVAC professional may consider these features when determining the appropriate furnace size for a space.
Looking for Furnace Installation Experts? Contact MSP Today!
Since 1918, MSP Plumbing Heating Air has served Twin Cities residents with prompt, reliable, and high-quality service. After helping you find the right furnace for your heating needs, we'll perform a thorough and speedy installation– all backed by our 100% satisfaction guarantee. Call us at (651) 228-9200 or click below to schedule a free in-home estimate today.